Starfest 2019 Speakers
Keynote Speakers: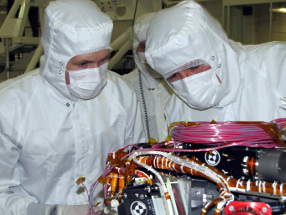 Dr. Ralf Gellert
Exploring Mars with Rovers
Mars has captured the imagination for a long time.  One of the few objects in the sky that show changing structures and colours, it stimulated ideas of intelligent life forms inhabiting our neighbour planet.  After the first fly-bys 50 years ago and the Viking landers, it became clear that Mars is now an arid, cold and dry planet.  Over the last two decades, orbiters, rovers and landers have uncovered a detailed story about how Mars developed since the formation of our solar system.  In the first billion years, Mars must have been much more similar to Earth, with warmer temperatures, a thicker atmosphere and abundant water.  This is the same time life arose on Earth and developed over 4 billion years into the planet we know today.  On Earth, plate tectonics erased much of the oldest rock record, but Mars seems to have been frozen in time, preserving the evidence for us to find out, if life ever arose on Mars and to learn lessons about how life formed on Earth.
In this talk, Dr. Gellert will discuss how the Mars rovers do their challenging job of exploring the surface of another planet, steered by a team of hundreds of scientists and engineers.  Dr. Gellert is the lead scientist for the Alpha-Particle-X-ray-Spectrometer (APXS), an instrument that was on board of all 4 NASA rovers.  It has made ~ 1000 measurements of the chemical composition of rocks and soils along their combined traverse of ~ 75 kilometers.  Together with images and mineralogy results, these chemical data are used to find out, under which environmental conditions the rocks and soils formed long time ago.  Besides an overview what the rovers found over the last decade, a big part of the talk will be dedicated to describe, how the rover teams operate the rovers facing various challenges each day and how the scientists put together the many pieces of the scientific puzzle.
Biography:
After completing my Doctorate in Applied Physics in 1999 in Darmstadt, Germany, I joined the Max-Planck institute in Mainz to work on developing and building scientific instruments for space exploration.  I was part of the team for the Moessbauer and APXS instruments on board the Mars Exploration rovers Spirit and Opportunity and the APXS for the Comet mission Rosetta.  In 2005, I joined the University of Guelph as a Physics faculty member, where I led the development of an improved, Canadian-built APXS for the current Mars rover Curiosity, which explores Mars since 2012.
✰ Photo of Ralf Gellert courtesy of JPL/NASA.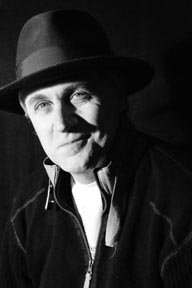 Robert Godwin
Apollo 11 - Some tales of humankind's first voyage to another world
Over the last 50 years the story of Apollo 11 has been told in every language and in every country on Earth.  Over 400,000 people contributed to what was arguably the greatest technical achievement in history.  Robert Godwin has had the privilege of meeting and working with many of the key people who contributed to this momentous achievement, including nine of the men who walked on the moon.  In this talk he will share some of the more interesting and little known facts about the Apollo program and how it affected his entire career.
The History of the Lunar Lander from 1937-1969
In this talk Robert Godwin will take the audience through the entire history of how scientists around the world contributed to what became known as "The Eagle", the Apollo lunar landing craft.  With dozens of rarely seen images covering a range of designs from before World War 2 up to the incredible Apollo Lunar Module.
Biography:
Robert Godwin is the owner and founder of Apogee Books.  He is a member of the International Astronautical Federation and American Astronautical Society History Committees and the Space Curator at the Canadian Air & Space Conservancy in Toronto.  He is a director of the General Astronautics Research Corporation.  He has written or edited over 150 books on space flight including the award-winning series "The NASA Mission Reports".  Robert has appeared on dozens of radio and television programs in Canada, the USA and England.  His books and videos have been seen on CNN, History Channel, Smithsonian TV, the CBC, the BBC and CBS 60 Minutes.  He produced the first virtual reality panoramas of the Apollo lunar surface photography and the first time-synchronized multi-camera angle movie of the Apollo 11 moonwalk and moon landing.  He consulted on the Discovery Channel TV series "Rocket Science" and "Mars Rising" and the science fiction web series "Deep Six".
In 2002 Godwin's Mission Reports series won the Space Frontier Foundation's Best Presentation of Space Award.  In 2007 the International Astronomical Union's Committee for Small Body Nomenclature approved the naming of a main belt asteroid after Robert for his efforts in documenting space history and raising public awareness about Near Earth Objects.  "4252 Godwin" is an absolute magnitude 12.7 minor planet.  He has staged space exhibitions in the USA and Canada and has spoken at countless venues including the Canadian Embassy in Washington DC.  In 2013 he co-authored a biography of Arthur C. Clarke with Fred Clarke, brother of Arthur.  In 2014 he co-authored "2001 The Heritage and Legacy of the Space Odyssey" with Frederick I. Ordway III, who was technical adviser to Stanley Kubrick for the film "2001 A Space Odyssey".  In October 2015, his essay "The First Scientific Concept of Rockets for Space Travel" contributed a previously unknown chapter to early space history by revealing that a Scottish/Canadian Presbyterian Minister named William Leitch was the first scientist to determine, for the correct reasons, that rockets were the best method for powering space flight.  In 2018 he co-authored a history of the International Space Station under contract to NASA.
Guest Speakers (alphabetically):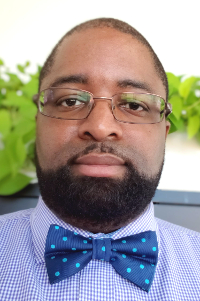 Adrian Aberdeen
A Beginner's Guide To The Galaxy of PixInsight
Join Adrian as he takes you on A Beginner's Guide To The Galaxy of PixInsight.  From Batch Preprocessing to Deconvolution, from Background Extraction to Noise Reduction and beyond.  Using simple jargon in a live setting, learn how to process your images and share them with the world.  If he can do it, so can you!
Biography:
Adrian Aberdeen is an aspiring City Astrophotographer.  His passion for astronomy grew from an early age growing up in the Caribbean but budded in 2016 when he purchased his first telescope.  Soon after he knew astrophotography would become his passion.  Nestled deep in the light polluted skies of Toronto, he has managed to capture amazing images from his apartment balcony with astonishing results.
Ron Brecher
Optimizing Image Scale for Deep-Sky Astrophotography
The "image scale" of an astrophotography setup refers to how much sky falls on each pixel of a sensor.  In effect, it is the theoretical best resolution (the size of the tiniest features) that can be discerned in an image.  Image scale for deep sky imaging is usually expressed in arcseconds per pixel, and smaller image scales can deliver better resolution – to a point.
Because image scale depends on characteristics of both the telescope and the camera sensor it is important to consider both when designing or upgrading an astrophotography system.  Local seeing conditions also affect resolution, and need to be considered when choosing equipment.  In this presentation Ron will show you how to choose a telescope and camera combination that gives you an optimum image scale for the types of deep sky targets you want to capture, and your local sky conditions.
Biography:
Ron Brecher has been working to master the "dark arts" of astrophotography for about 15 years, shooting galaxies, nebulae, star clusters and more from his observatory.
Ron's images have been published in print and online journals, books and magazines, as CD cover art and on beer labels.  His image of the Flying Bat and Squid Nebulae is on the cover of the 2019 Observer's Handbook.  He was the Technical Reviewer for the reference text "Inside PixInsight" by Warren Keller.  He writes regularly for Sky & Telescope and other publications, most recently "The Quest for Round Stars" in the June 2019 S&T.
Ron speaks at star parties, club events and astrophotography conferences in Canada and the U.S., on topics related to backyard astronomy, astrophotography and image processing.  Ron is available for private or group tutoring on any aspect of equipment selection and use, and image processing with PixInsight.
Ron lives in Guelph, Ontario where he and his wife Gail live with two dogs, two cats and two kids.  In "real life", Ron holds a PhD in biomedical chemistry and is a board-certified toxicologist with more than 30 years' consulting experience, specializing in risk assessment and risk communication.  To round things out, Ron plays rhythm guitar and lead vocals in the R&B Band "The Exceptions".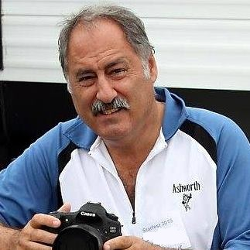 Gary Colwell
"Bass-ackwards Astrophotography"… The Basics of the How & What of Equipment Selection and Image Capture for Beginning Astrophotographers
A presentation on the beginners arsenal of "How and what" entitled "Bass-ackwards Astrophotography".  This will cover topics like how to select a telescope and mount, camera selection, power options, planetarium software, autoguiding, capture software, and basic principles for choosing a target.  And the cool thing is that most of these elements are FREE! (except the telescope and mount!)
Basic Astro-Image Processing using Photoshop, Annie's Actions & Carboni's Actions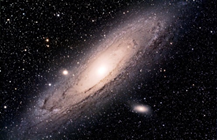 This session will be a beginner's course on processing your images using Photoshop, Annie's Actions and Carboni Actions.  This will be a "Hands On" tutorial, and be sure to have Photoshop, Annie's Actions and Carboni Actions loaded up on your computer.  Bring your personal computer with you to the seminar for the best results… but not a necessity.  This seminar is not an in-depth image processing presentation, rather a "Quick step" easy to use and understand method of getting great results with a minimum learning curve.  If you are interested in getting started in astrophotography or simply as a refresher with the minimum amount of hassle… and seeing great results… this seminar is for you!
Biography:
Gary Colwell has been an amateur astronomer since the age of 8 when he got his first Tasco 50mm telescope for Christmas.  Now in his 54th year of astronomy he is still as enthusiastic as ever.  Astrophotography has been a love of his since his first picture was taken of Comet Kohoutek in 1973 using a Pentax Asahi camera strapped to his chimney flue on the roof of his house!  With the invention of the digital DSLR, his "ah-ha" moment was an image taken with a Coolpix 995 camera of the Great Orion Nebula… He was thrilled… even though it looked like a colourful smudge.  He was hooked, and even built his own observatory at his cottage in the North Frontenac Dark Sky Preserve.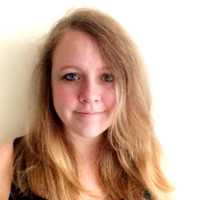 Dr. Auriane Egal
Meteors: when the sky falls on our heads
Meteor showers are an enigmatic phenomena.  They are mainly composed of small dust particles, making them too large to efficiently scatter the sunlight to be seen as a whole, and too faint to be observed with a telescope.  We detect them when they enter our atmosphere as meteors that sometimes ruin long-exposure astrophotos!  And when we notice them, they are already gone!  However, these small visitors have a crucial importance in our understanding of the Solar System.  The formation and evolution of these dust swarms helps to understand the behavior of comets, asteroids, and even the planetary evolution.  If large objects can cause damage on the ground, small dust particles also represent a real threat to satellites, space missions and the safety of astronauts in the International Space Station.  It is therefore mandatory to predict the time of the upcoming meteor showers.
Biography:
I grew up in Spain fascinated by the Universe and its mysteries.  I enjoy travelling around and chasing clear skies, eclipses, meteorites and space debris reentries.  In 2014, I joined the Paris Observatory to contribute to the development of the first professional meteor camera network in France dedicated to meteor observation.  After receiving my PhD, I joined the Meteor Physics Group at the University of Western Ontario as a Postdoctoral Associate in 2018.  The focus of my work is to create simulations of the Solar System and ejection of meteoroids from observed comets, and predict future apparitions of meteor showers at Earth.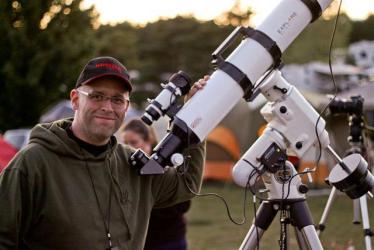 Marc Fitkin
Beginners Guide to Telescopes
Marc was inspired by the motion picture 2001 A Space Odyssey.  His first views of a major planet were through a very simple, low quality telescope with a shaky tripod on a frigid evening in late December of 1989.  Marc will tell us why one should avoid such a telescope.
Biography:
Marc has been involved in amateur astronomy for over 25 years and in the Astronomy optics business since 2002.  He is currently with New Eyes Old Skies.   Marc has owned over ten different telescopes of various designs including refractors, reflectors, and Schmidt-Cassegrain Telescopes.  Marc's main interests are double star, planetary and galaxy observing, pushing the limits of small, portable telescopes.  Marc also takes part in public observing and public outreach events through New Eyes Old Skies, The Stargazers Group of Mississauga, NYAA StarFest and the David Dunlap Observatory.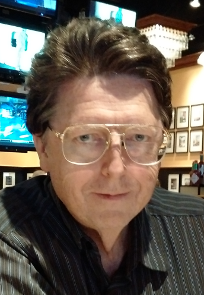 Norm Folkers
A better and easier way to make your own telescope primary mirror
It's been too long since the last time we made a mirror at Starfest.  So this year we will do it using updated techniques commensurate with the times.  Everything has to be done quickly.  So this year it will be done using a variant of a simple Mirror-o-matic that take the drudgery out of the process.  We'll use two machines to demo the grinding process on one machine and polishing on the other.  Audience participation will be encouraged in operating the machines.  (One hand will be sufficient leaving the other to operate your social media device. :-0 ) We'll be set up allow the grinding and polishing process to be done at different grit stages and the polishing process on the second machine will (hopefully) take a mirror from ready to polish to a fully polished sphere, ready for figuring.  I hope it will rekindle the urge to try making your own scope to enjoy the sky.
Biography:
Building and personally customizing your telescope provides personal enjoyment of a technical challenge, a method of personally customizing your telescope and can be an inexpensive way to obtain a useful telescope for many hours of viewing pleasure for you and your family.
Norm was introduced to amateur telescope making (ATMing) in 1965 after a presentation in the chemistry building of the University of Toronto and was hooked on telescope making ever since.  Over the years, he has made many scopes.  Some scopes are still unfinished, while some will never truly be finished as they can always be improved or modified.  Norm enjoys observing, but prefers to use his many talents making and testing telescopes.
Norm also enjoys bending or breaking those long standing guidelines and rules developed and shared over the decades among ATMers.  Why walk around a barrel?  Why not sit and use a lazy Susan to have the mirror and tool rotate?  Why must a tool be round?  In the early days, the tool had to be the same size and shape as the mirror blank.  Why?  Why not use grinding machines to do the work?  Thanks to John Dobson, aperture fever is curable or at least manageable and we are all better off for it.  So get out and make something that enhances your own experience.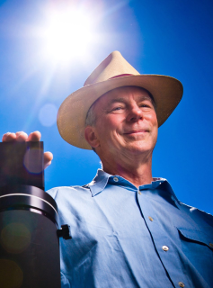 Alan Friedman
Catching Sunlight
Amateur stargazers have a long history of making valuable contributions to our understanding of the heavens.  Today, a backyard astronomer armed with a small telescope and digital camera can capture images of the cosmos that would have been the envy of professional observatories just a few years ago.
Alan Friedman is a citizen astronomer who records our neighborhood star from a surprising vantage point - a downtown Buffalo backyard.  He will share his story, his images and techniques for recording the sun and discuss why the vision of an amateur stargazer matters in the ever more complicated universe of the twenty-first century.
Your Neighborhood Star Revealed
Observing and Imaging the Sun with backyard telescopes.
Biography:
Alan Friedman is an artist and avid astrophotographer who records our neighborhood star from his backyard in Buffalo, NY.  His photographs of the sun have been featured on NASA's Astronomy Picture of the Day and shared widely with science and art audiences through print and digital publication.  A collaborative exhibition Fire & Ice with snowflake photographer Douglas Levere premiered at CEPA Gallery in Buffalo in November 2015 and traveled to Photo-Eye Gallery in Santa Fe and the Kresge Gallery at Ramapo College in early 2016.  A solo exhibition Into the Light was mounted at the Palm Court Gallery during the 2013 Solar Decathlon in Orange County, CA and Group shows include Starstruck at Bates College Museum of Art, Solar at Photo-Eye Gallery in Santa Fe, Astronomy Photographer of the Year at the Royal Observatory Greenwich and the international touring exhibition From Earth to the Universe.  His work and image processing techniques have been the subject of lectures and articles, a TED talk, interviews on MSNBC's TODAY show and in the books, Lessons From the Masters, and Shallow Sky.  His portfolio of photographs is represented at Photo-Eye Gallery in Santa Fe.
By day, Alan is president of Great Arrow Graphics, a greeting card publisher based in Buffalo, NY.  He serves on the board of the Buffalo Astronomical Association and holds the title of Research Associate in Astronomy at the Buffalo Museum of Science.
✰ Photo of Alan Friedman taken by Douglas Levere.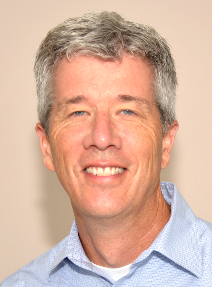 Paul Fulford
MDA's Contributions to Space and Planetary Exploration
Paul Fulford will outline MDA's extensive and very significant contributions to space and planetary exploration.  MDA is internationally recognized as a world leader in the development, delivery and operations of advanced space robotics and automated systems.  Since the 1980's MDA has provided engineering and mission support to NASA and the CSA for the successful operation of mission critical tasks.  From the Canadarm to the ISS, OSIRIS Rex, and the Mars Rovers to name just a few, MDA's space exploration technologies impressive flight heritage provides the foundation for new missions to explore the Moon, Mars, asteroids and other bodies in the solar system.
Biography:
Paul Fulford is a Product Development Manager for Space Exploration at MDA in Brampton, Ontario and is currently responsible for new product and business development for human, robotic and science space exploration.  A major area of focus is on human-robotic exploration and mission development that includes next generation robots to explore the moon and Mars.  Paul has been at MDA since 1991 and started working on the Canadarm2 program for the International Space Station.  In the late 90's, Paul focused on technology development for Moon and Mars exploration that led to a Program Manager role for the Alpha Particle X-Ray Spectrometer (APXS) that is currently in its 7th year of operation on NASA's Curiosity rover.  Paul was the Program Manager for neuroArm2, a micro-surgery robot that operates inside the magnetic field of an MRI and for a large-scale inspection and repair robot that Ontario Power Generation uses to inspect the inside of their nuclear reactors.
Dr. Philip McCausland
Red Planet Up Close!  The Delivery, Discovery and Investigation of Martian Meteorites
There is a long history of observing Mars from afar, by eye and telescope, and in the past 50 years also by targeted spacecraft missions that now include landers and highly capable rovers like Curiosity.  But so far the only samples we have from the Red Planet have been delivered by Nature, as Martian meteorites!  Over 130 Martian meteorites are now known, and the pace of discovery is increasing.  Some 40 years after they were first recognized in meteorite collections, it is a good time now to revisit the discovery of these unusual meteorites, to explore how they were delivered to the Earth, and find out what they might tell us about the history of our nearest planetary neighbour.
Biography:
I have since childhood been interested in planets and asteroids, first as an amateur astronomer and in my professional career as a Geologist and Planetary Scientist, currently at Brock and Western Universities.  My research in Planetary Science is in meteorites, from investigating several Canadian meteorite falls to examining the mineralogical record of meteorite formation and their shock history.  Martian meteorites are especially fascinating and I have mentored several students in working on these amazing rocks.  I am also currently part of a team of researchers funded by the Canadian Space Agency, aiming to develop a concept rover instrument for In-Situ X-Ray Diffraction (IS-XRD) for Mineralogical Characterization of Planetary Surfaces, which will focus on being able to examine these rocks on Mars!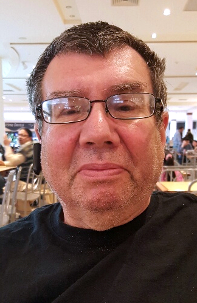 Murray Romisher
Mallincam Observing and Presentation
A number of years ago while I was looking through the eyepiece of my telescope I noticed that no matter how hard I tried I could not focus the object I was looking at properly.  A visit to my optician confirmed I had an astigmatism in both eyes.  It was around that time I learned by accident about an inventor named Rock Mallin who created a ccd video camera, he created a Yahoo group called "Night Skies Network.ca".
A common problem plaguing amateur astronomers is light pollution.  The need to have a dark sky to observe objects except the Moon or a couple of planets was making it more difficult to observe.  With the Mallincam observing through the eyepiece was no longer necessary.  You can observe objects live and within seconds many deep sky objects and in colour.  I just sit in my chair with my monitor or laptop or Hi-Def TV.  I go from object to object in seconds with great clarity.  I will be doing a live presentation on Friday and Saturday Evening once its dark.  I will be setup in the field out side the shower/ washrooms/ laundromat building by the main tent, there will be chairs set up, or bring a more comfortable chair if you chose.
Biography:
Murray has been interested in astronomy since he was a teenager and is a member of several astronomy clubs.  He has been involved with Mallincam video astronomy for 9 years.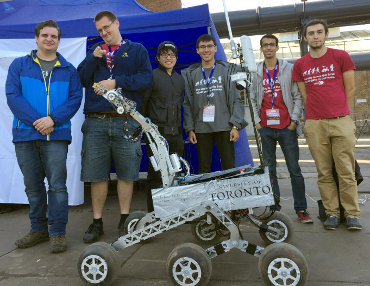 Team RSX
Building Mars Rovers for the Student Community
Over the past 20 years, rovers have been actively exploring Martian terrain for interesting geological features and signs of life.  Mars rovers constitute one of the most interdisciplinary robotic challenges that calls for the talent of our top scientists and engineers.  Their integration of structural engineering, control systems, and scientific instruments into one semi-autonomous vehicle certainly demands an eclectic expertise.  This talk will present Robotics for Space Exploration's (RSX) Mars rovers which were used in various international competitions, including the University Rover Challenge, European Rover Challenge, and Canadian International Rover Challenge.  It will give an overview of the engineering design process that went into constructing each of the rover's technical components, including their relation to competition-related tasks.  Finally, the talk will conclude with highlights of RSX's many outreach activities that were hosted for undergraduate, high school, and elementary school students, including various hackathons, workshops, and school visits.
Biography:
RSX is a design team at the University of Toronto and has been operational since 2013, growing from 5 members to over 40.  Its ultimate mission is to foster students interested in space and robotics through related competitions, workshops, and outreach events.  It has competed in a number of annual rover competitions, including the University Rover Challenge from Jun 2013-Jun 2018 and the European Rover Challenge in September 2018.  RSX also plans to compete in the Canadian International Rover Challenge in August 2019.  RSX has also competed in the CanSat competition where teams are required to launch a can-sized satellite for atmospheric measurements and payload protection.  As an advocate for spreading interest in robotics, RSX also hosts two hackathons a year, one for high school students and another for undergraduate students.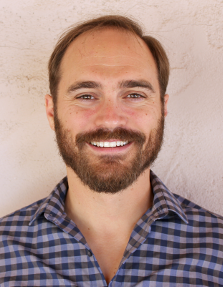 Dr. Isaac Smith
A high resolution of Mars: cool features up close
In this presentation, we will zoom in on some of the most interesting features of Mars as resolutions good enough to see a person walking around, although there have been no people detections so far.  We'll look at movement of sand dunes, slope streaks, clouds and winds, avalanches, and ancient river beds.  There will be many amazing images and an explanation of the associated science.
Biography:
Dr. Isaac Smith is an Assistant Professor at York University and Canada Research Chair holder.  He completed his Ph.D. at the University of Texas in 2013.  Prior to his current position, he was a full time research scientist at the Planetary Science Institute, and before that he held a Fulbright Fellowship in Paris, France, where he spent a year at Sorbonne University.  His research interests are primarily about ice deposits on Mars and how they interact with the geology and current climate.  He is a co-investigator on the Mars Reconnaissance Orbiter and uses the Shallow Radar instrument to investigate layering in the polar ice caps in search of climate signals.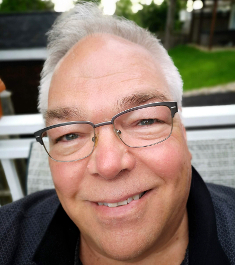 Gary Stephey
What's New from Celestron and Sky-Watcher
Celestron and Sky-Watcher have a number of exciting new products this year for amateur astronomers.  Highlights include the 8″ Rowe-Ackermann Schmidt Astrograph and new additions to the PowerTank series from Celestron, the new HEQ5 Mount and 20th Anniversary Kits from Sky-Watcher
Biography:
Gary is celebrating his 35th year in the consumer optics business in Canada.  He and his wife Candy manage their national sales agency, Cangar Agencies, from their new home in Dartmouth, Nova Scotia.  Cangar Agencies represents Celestron, Sky-Watcher, Starfield Accessories, Kowa Sporting Optics and Luna Night Vision.  Gary is also a project manager for The Starships Project, a fund-raising program for astronomy and science outreach by SkyShed Observatories.  In his spare time, Gary enjoys birding and observing the night sky.