Oak Heights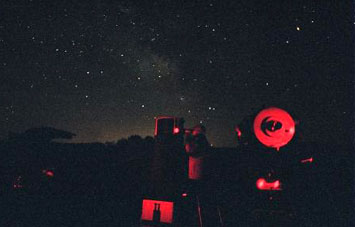 The NYAA maintains observatory and warm-up hut facilities at its dark sky observing site near Oak Heights, Ontario which is approximately 16 km north-east of Cobourg, and a two-hour drive from Toronto. The coordinates for Oak Heights are: 44º 8' 15" N latitude, 77º 58' 40" W longitude, and 233 metres elevation. The sky at this location is comparable to the sky at the River Place (where Starfest is held each year).
The NYAA's Dark Sky Weekends are held at Oak Heights. Members who have key access to The Bog also have access to Oak Heights at any time.
For first-time visitors to Oak Heights, it is a good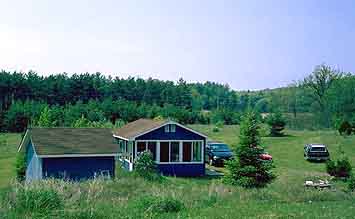 idea to acquaint yourself with the site layout during daylight hours. Just past the cabin is a hill on which several observatories are located. The east side of this hill (away from the cabin) is rather steep! In the "valley" at the bottom of this slope is the big storage shed, bunkhouse, and pond. The safest way to get to these is to follow the laneway around the hill.
The bunkhouse sleeps 5 and doubles as a warm-up hut (by using the kerosene heater). If you are bringing your own equipment, electrical power is available from outlets on the exterior of the several observatories on the hill.