At Starfest '98, during the evening program of August 22nd, the North York Astronomical Association announced the Starfest 'Bring Home The Bacon' Award.
This award was inspired by a comment made by Brian Marsden several years ago at a joint meeting of the Royal Canadian Institute and Royal Astronomical Society of Canada, Toronto Centre. At that meeting, Brian indicated that Canadian Amateurs were not keeping pace with other amateurs around the world with the discovery of asteroids and other things that go bump in the night.
The intent of this award is to stimulate observational activity among Canadian Amateurs by providing a cash prize for the next person who makes an astronomical discovery.
Starfest Bring Home the Bacon Award
The Starfest Bring Home the Bacon Award will be awarded to the next Canadian amateur astronomer or group of Canadian amateur astronomers to make an astronomical discovery, such as a near earth asteroid, comet, nova, SUPERNOVA. This discovery must be announced by and authenticated by a recognized authority such as the International Astronomical Union.
In keeping with the spirit of Starfest the award will consist of:
500 Loonies
a pound of back bacon
a toque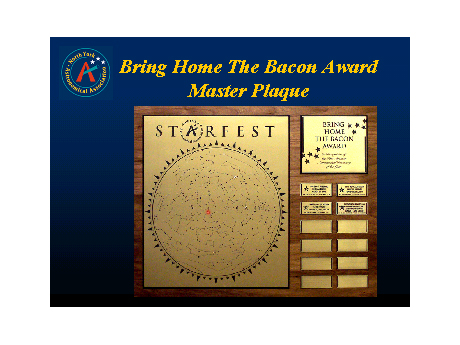 If you require further information about this award please contact .