Mark your calendars
Starfest 2019 will be held August 22nd to 25th
The North York Astronomical Association invites you to attend its annual star party
Starfest presents "Amateur Astronomy"
on
Starfest is recognized as one of the world's top 10
star parties!
Registration prices are the same as in 2016!
Whether you are a beginner observing with the naked eye or you have a large telescope, astronomy is an amazing hobby for those of all ages.  Seeing stars, planets, comets, nebulae, and galaxies as the universe reveals its awe-inspiring treasures is exciting and captivating.  Whether or not you have a telescope, if you are a beginner or more advanced, if you enjoy imaging celestial objects or simply looking at the night sky, then Starfest is for you!
Come and see the latest in astronomy gear.  Enjoy stunning astrophotography and learn new photography and image processing skill from the masters.  With three bright comets visible this year, get ready to capture your best comet images.  Witness a remote imaging demonstration.  And for those just beginning the hobby or interested in how to choose their first telescope, a workshop will guide them to make their best selection.
Enjoy an amateur's informative and humorous look at the hobby after 24 years of amateur astronomy.  Follow an expert's life journey making mirrors and building telescopes, from working at his kitchen table to his first shop and on to international success for the quality of his optics and structure of his telescopes.
Learn new tricks and techniques to enhance your astronomy experience by having better working and reliable equipment.  Find out how space life support science transfers for earthly applications.  Astronomy plays an important role in Indigenous cultures.  For a new outlook on familiar constellations, learn about Indigenous star lore.
Starfest will pay tribute to the life and contributions of Professor Stephen Hawking who brought science into our daily lives and a new understanding of general relativity, black holes, the Big Bang, and the universe to amateur astronomers.  He was an inspiration to millions, with his keen insight, courage, intelligence, and sense of humour.
You won't want to miss this exciting Starfest experience!  Come and join your fellow astronomy enthusiasts for this outstanding weekend under the stars!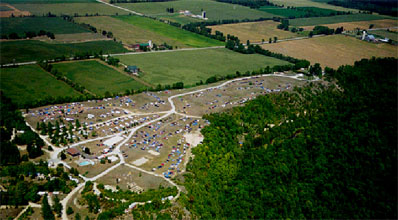 Starfest is Canada's largest annual amateur astronomy conference and star party attracting hundreds of astronomy enthusiasts from Ontario, neighbouring provinces and the USA.  It has been ranked among the top star parties in North America by Sky and Telescope magazine.
Starfest offers a variety of observing-oriented activities that address the needs and interests of experienced observers and astrophotographers, as well as those new to the hobby.  Activities include observing sessions, guided sky tour at night, presentations by outstanding leading-edge speakers, workshops, children's activities and commercial exhibits with vendors on-site to explain how their products work with hands-on displays.
Follow Starfest online at

and on

Starfest is a camping weekend away from city lights, and is not well suited for those on a day trip.