Starfest 2018 Speakers
Keynote Speakers: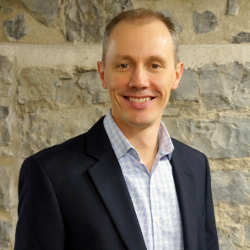 Major Don Bédard, CD, Ph.D.
Twinkle, twinkle, space debris: How dangerous can you be?
For the first time in human history, amateur astronomers around the world were able to observe a new wandering star on 4 October 1957 when Sputnik was launched by the Soviet Union and the Space Age began.  More than 60 years later, on any given clear night, dozens of these objects can be observed without the use of a telescope or binoculars.  If the latter are used, then hundreds of satellites can be seen and studied.  This figure attests to the fact that our modern society now depends on satellites for a broad range of civilian, commercial and scientific applications that include communications, crop management, weather monitoring, disaster evaluation and response as well as scientific experiments.  Unfortunately, humanity's ventures into space has also generated an alarmingly high amount of space debris.  According to the NASA Orbital Debris Program Office, there are more than 15,000 orbital debris objects larger than 10 cm that are continually monitored by the United States Space Surveillance Network to which Canada is contributing.
In this talk, Major Don Bédard will discuss why there are so many orbital debris objects in the first place as well as why these represent a danger to spaceflight operations and ultimately our continued use of the space environment in our daily lives.  For the enthusiastic amateur astronomers looking to observe and study satellites and space debris ojects, he will also present how these objects can be observed and studied using a telescope and an imaging detector.
Biography:
Major Don Bédard joined the Canadian Armed Forces in 1990 as an officer in the Royal Canadian Corps of Signals.  After completing his Ph.D. in physics in 2013, he was assigned to serve an assistant professor of physics at the Royal Military College of Canada.  His research activities are mainly focussed on the spectrometric characterization of artificial Earth-orbiting objects.  Prior to starting his doctoral studies in 2009, he worked 7 years in the Space Systems Group at Defence Research & Development Canada in Ottawa.  Among his assignments during this time, he served as the Project Manager for the NEOSSat Technology Demonstration Project, the Project Manager for the M3MSat (JPO) and the Leader of the Space Systems Group.  Don also holds a B.Sc. (Space Science) from the Collège militaire royal de Saint-Jean, an M.Sc. (Space Studies) from the University of North Dakota and he is a graduate of the 2004 International Space University's Space Studies Program.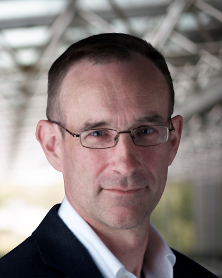 Dr. Raymond Laflamme
Fireside chat on Stephen Hawking
On March 14 2018, the Universe has lost one of its admirers, a scientist, communicator and humanist that prodded and answered some of its deepest and most profound properties.  Stephen Hawking passed away leaving behind a transformed view of the cosmos.  He proved that time had a beginning if Einstein's general relativity is correct, that black ain't so black after all and he proposed that the Universe can be described by a quantum mechanical wave function with no edge or boundaries.  From 1984 to 1988 I was one of Stephen's graduate student and worked on quantum cosmology and the arrow of time which earned me a quote in the book: "A Brief History of Time".  After a post doctoral fellowship at UBC, I went back to Cambridge for 2 years as a Research Fellow in Stephen's group and met him at various conferences around the world and during his visit in Waterloo.  A few years ago I contributed to a book that he wrote with his daughter Lucy "George and the Unbreakable Code".
In this "fireside" chat, I will describe some of Stephen's contribution to our understanding of the Universe and will include in my comments, stories and anecdotes of being one of his students.
Biography:
Raymond Laflamme is a native of Quebec city.  He earned his PhD at Cambridge University Department of Applied Mathematics and Theoretical Physics under Stephen Hawking.  He is even mentioned in Stephen Hawking's book 'A Brief History of Time'.
After post-doctoral fellowships in Vancouver and in Cambridge, he settled at Los Alamos National Lab until 2001 when he came to Waterloo to become the founding director of the Institute for Quantum Computing that he has lead for 15 years.  He has also been an Associate Researcher at the Perimeter Institute for Theoretical Physics since 2001.
As a pioneer in quantum information processing, he has earned Fellowships from the American Association for the Advancement of Science, the American Physical Society and the Royal Society of Canada.  He is the recipient of J.T.Knight Prize (University of Cambridge), 1986, Top ten breakthrough of the year in the journal Science (1998), Premier Research Award, Government of Ontario (2002) the Medaille Grande Escolle de l'Association des Diplomes de l'Universite Laval (2005), Premier's Discovery award in Natural Science and Engineering (2007), Fellow of the American Physical Society and of the American Association for the Advancement of Science (2011), an honorary degree from Universite de Sherbrooke (2012), a Queen Elizabeth II Diamond Jubilee Medal (2013), the Canadian Association of Physicist 2017 CAP-CRM prize in Theoretical and Mathematical Physics (2017) and became an Officer of the Order of Canada in 2017.
He presently holds the Mike and Ophelia Lazaridis "John von Neumann" Chair in Quantum Information and a Canada Research Chair in Quantum Information.  In 2010 he co-founded Universal Quantum Devices, a startup commercializing spinoffs of quantum information research and in 2015, he founded QuantumLaf Inc.
Guest Speakers (alphabetically):
Dr. Pauline Barmby
Why Andromeda?
Extragalactic astronomy tells us a lot about our place in the universe and provides some tangible benefits both to society and other sciences.  The Andromeda galaxy (M31) is the nearest large galaxy to our own Milky Way.  It provides a valuable perspective on galaxy structure and contents that we can't get any other way.  I'll describe the results of research I've done on Andromeda with many different telescopes in space and on the ground, including Hubble, Spitzer, Chandra, Gemini, and more.  I'll tell you what I think astronomy is good for – the cosmic perspective and much more!
Biography:
I use telescopes on Earth and in space to study the contents of nearby galaxies.  I advocate for accessibility to science for all.
I grew up fascinated by science fiction but changed my career plans to "scientist" upon finding out about the eyesight requirements for potential astronauts.  I received degrees from the University of British Columbia and Harvard University.  After receiving my PhD, I worked at the Harvard-Smithsonian Center for Astrophysics as part of the team responsible for building and testing the IRAC camera on the Spitzer Space Telescope.  In 2007 I joined Western's Department of Physics and Astronomy and in 2015-18, I joined the academic leadership in the Faculty of Science as associate dean (graduate and postdoctoral studies).  In my astronomy research I'm interested in the use of computer data-mining techniques and community-developed software to facilitate knowledge extraction from astronomical data.  I'm interested in communicating science to the public and teaching computational techniques to scientists.
Gary Bennett and Dave Yates present:
"Wire It / Mount It / Maintain it" The tricks and techniques you NEED to have.
Learn how to make power cords the perfect length, and mount all those gadgets that adorn your rig.  This seminar is all about learning a few simple skills that will enhance your Astronomy experience by having better working and reliable equipment.
Simple soldering skills.  The best way to make perfect power cords.  Proper joints and wiring techniques.
The magic of Heat Shrink Tubing.  Electrical tape should be banished!  Learn how to give your power cords a professional look that never fail.
How to use a multi-meter to measure polarity/voltage/Resistance.  Knowing this will give you the confidence to tinker with power cords.
Drill, tap (threads).  Velcro and Duct Tape is a temporary solution.  In 10 minutes you can learn how to tap threads and mount stuff with real machine screws using a $30 tap-set.
General lubrication, proper use of thread lockers (locktite)
Tips and tricks!
Dave and Gary will demonstrate theses skills.  Their presentation will be followed by a hands-on workshop where you can try yourself and have your questions answered.
Biographies:
Gary & Dave were friends even before their Astronomy Obsession began.  This is their 4th time as Guest Speakers at Starfest and this year's topic is a continuation of the evangelistic approach of "The MacGyver Philosophy" and how it applies to mastering the complex equipment we use as amateur astronomers.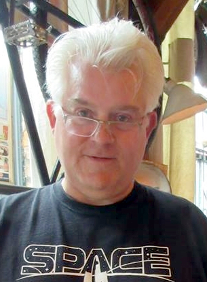 Gary Bennett
Gary began his astronomy obsession in 2001 and immediately became fascinated with photographing the night sky.  He quickly learned that there were few commercially available solutions to simplify managing the gear needed for astrophotography and set out to fabricate better alternatives that simplify set-up and power management.  Many of his inventions went on to become commercially available products manufactured by Kendrick Astro Instruments.  In 2014, Gary took over the reins at Kendrick Astro Instruments where he is now managing day-to-day operations.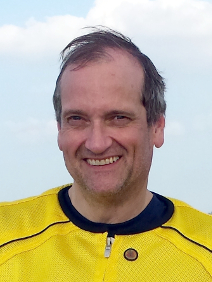 Dave Yates
Dave started with mechanical and electro-mechanical tinkering at a very early age.  Later in High school he specialized in machine shop and precision repair and fabrication.  Trained in the Aerospace industry, Dave used this experience in various positions from designing mechanical process equipment in the auto industry, repair of IMAX cameras, Water feature design and engineering, and finally in the service and repair of medical testing equipment.  Dave got involved in astronomy when good friend Gary Bennett got his first scope in 2001 and introduced him to the hobby.&enps; This introduction has quickly grown into a bit of an obsession.  Dave now runs Telescope Performance Improvements (TPIastro.com) and manufactures upgrade and stability products for various telescope mounts.  Present projects are varied and as always Dave is busy redesigning and figuring out new and innovative ways to "make things Better" in Astronomy.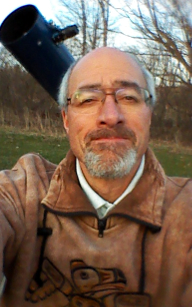 Frank Dempsey
Starlore of Indigenous North Americans
The constellations and starlore of the stars in our skies are interesting to most people who are lucky enough to look at a dark starry sky.  While astronomers are familiar with the Graeco-Roman constellations and associated starlore, the constellations seen by North American Indigenous peoples were particular to their natural environment, lifestyles, and natural creatures relied on for survival.  What lore and legends did Indigenous people associate with the patterns of stars in the sky?  How have these legends connected everyday life and their worldview with the stars and constellations?  How have the constellations and legends varied across our continent with regional differences in geography and how people survived?  These questions are interesting and we'll consider these factors along with numerous examples of Indigenous constellations in the Starfest sky.
Biography:
Frank Dempsey has been an amateur astronomer for half a century.  Besides enjoying looking at dark skies by unaided eye and appreciating starlore, he also uses various telescopes from 80 mm to 250 mm aperture, builds telescopes and grinds mirrors, observes variable stars by visual and photometric methods, enjoys solar, planetary and all forms of deep sky observing, and enjoys being an armchair astronomer to try to keep up with the latest fascinating astronomy research.  Although his day job as a meteorologist and atmospheric scientist has occasionally interrupted with some Starfests in past years while being on duty for weekend forecasting, he has attended most Starfests during the past quarter century and realizes that Starfest is a great astronomy event worthwhile contributing to in various ways.  Being Anishinaabe and a member of Dokis First Nation in Ontario has contributed to an Indigenous perspective of the sky and helped to add insight into constellation starlore.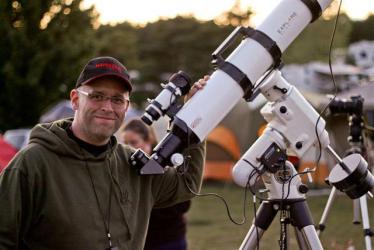 Marc Fitkin
Beginners Guide to Telescopes
Marc was inspired by the motion picture 2001 A Space Odyssey.  His first views of a major planet were through a very simple, low quality telescope with a shaky tripod on a frigid evening in late December of 1989.  Marc will tell us why one should avoid such a telescope.
Biography:
Marc has been involved in amateur astronomy for over 25 years and in the Astronomy optics business since 2002.  He is currently with New Eyes Old Skies.   Marc has owned over ten different telescopes of various designs including refractors, reflectors, and Schmidt-Cassegrain Telescopes.  Marc's main interests are double star, planetary and galaxy observing, pushing the limits of small, portable telescopes.  Marc also takes part in public observing and public outreach events through New Eyes Old Skies, The Stargazers Group of Mississauga, NYAA StarFest and the David Dunlap Observatory.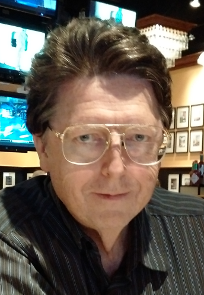 Norm Folkers
Cubed Domes
Norm will host an exhibit and demonstration of his unique prototype "cubed dome" remote observatory to demonstrate its operation.  He will also bring his Mark II ABS scope.
Biography:
Building and personally customizing your telescope provides personal enjoyment of a technical challenge, a method of personally customizing your telescope and can be an inexpensive way to obtain a useful telescope for many hours of viewing pleasure for you and your family.
Norm was introduced to amateur telescope making (ATMing) in 1965 after a presentation in the chemistry building of the University of Toronto and was hooked on telescope making ever since.  Over the years, he has made many scopes.  Some scopes are still unfinished, while some will never truly be finished as they can always be improved or modified.  Norm enjoys observing, but prefers to use his many talents making and testing telescopes.
Norm also enjoys bending or breaking those long standing guidelines and rules developed and shared over the decades among ATMers.  Why walk around a barrel?  Why not sit and use a lazy Susan to have the mirror and tool rotate?  Why must a tool be round?  In the early days, the tool had to be the same size and shape as the mirror blank.  Why?  Why not use grinding machines to do the work?  Thanks to John Dobson, aperture fever is curable or at least manageable and we are all better off for it.  So get out and make something that enhances your own experience.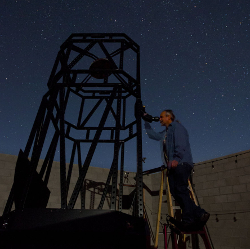 Normand Fullum
Why I Make Mirrors and Build Telescopes
Astronomy has always interested me and I vigorously promote astronomy locally, nationally and internationally.  My interest in building telescopes and making mirrors began more than 20 years ago when I realized that if I wanted a telescope that met my specifications I would need to build it myself.  In my talk I will take you on my life's journey, from working at my kitchen table to my first shop and on to international success for the quality of my optics and structure of my telescopes.  In the past 5 years, I have become an expert in the field of large mirrors for 20+ inch diameter telescopes, aluminum structures and various components.
The philosophy behind the construction of my work is very simple: a telescope is a noble instrument that shows us we are small in a universe full of suns that shine through a billion galaxies.  The optics must be the absolute best!  A telescope should be a thing of beauty and have a place of honour in your home or observatory and should be used!
Biography:
To discover the Universe in all its glory is a passion for Normand Fullum.  Comets, planets, objects from the deep sky, and of course, the occasional celestial phenomena have always stimulated Normand in the creation of his telescopes.  Not having studied optics or mechanical engineering at university never stopped Normand from fulfilling his dream.  Hands on experience took him to the same level as many other international companies.
Through the years, with acquired experience, Normand has built a reputation all over the world for the quality of his optics and the structure of his telescopes.  Presently, his company exports 80% of its work to the United States, Japan, Germany, Switzerland, Chili, Austria, Australia, South Africa and Italy.  The care given to the quality of the products that Normand designs and builds since 1997, quickly helped the company reach new frontiers.  This distinction in the world of optics paved the way to a unique partnership with the Laval University Optics Research Centre, MESI and CRSNG — provincial and federal government organizations.  Of this partnership, a unique technology in the fusion and polishing of large optical mirrors was created.  Today, the numerous advantages of the Techno-Fusion© technology makes it possible for the company to sell at competitive prices and puts the company forefront with opportunities of substantial growth each and every year.  The Canadian leader in custom-made large optical mirror for astronomy at competitive pricing, Optiques Fullum Inc. directs its designs and manufacturing of solar hubs, surveillance telescopes (infrared and multi-spectrum) and observatories.  The company still serves the amateur and professional astronomy market.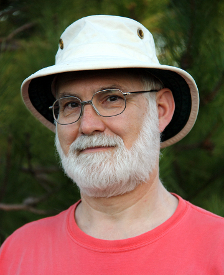 Andreas Gada
Lorenz Observatory Remote Imaging Demonstration
The NYAA has been using the Lorenz Observatory remotely for several years.  It is located at, their dark sky observing site north east of Cobourg.  This observatory houses an Astro-Physics 130EDF Starfire telescope on a Mach 1 mount and is equipped with an SBIG ST8300 CCD camera.  The observatory is controlled over the internet using CCD Autopilot working with MaxIm, FocusMax, the Sky6, PinPoint, Digital Dome Works and other ancillary software.
In this presentation Andreas will describe the many challenges faced by the NYAA to make remote imaging possible, what was done to meet these challenges and keep the system running.  Weather permitting, a remote imaging session will be held to demonstrate how the automation works.
Biography:
Andreas is one of the founders, and a Past President of the North York Astronomical Association.  In 1982, he started Starfest, and was the head 'honcho' for twenty six years.  He is an avid astrophotographer and telescope maker who enjoys puttering in his machine shop.  He has built several telescopes and observatories over the years.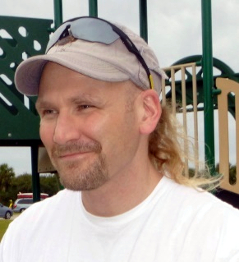 Dr. Thomas Graham
Bioregenerative Life-Support: The Challenges of Trying to Squeeze the Biosphere into a Box
I will be introducing bioregnerative life-support and the challenges associated with keeping people alive in a long-term and sustainable way as we move out into the solar system.  I will provide a brief history and some examples of various projects I have been involved with in this field.  I will also link the research that we do to terrestrial spin-offs.
Biography:
Dr. Graham is an Adjunct Professor in the School of Environmental Science at the University of Guelph (Guelph, Ontario, Canada) as well as the R&D Manager at the University of Guelph's Controlled Environment Systems Research Facility (CESRF).
Dr. Graham has worked with both NASA and the University of Florida to help develop an understanding of plants to spaceflight (ISS and sub-orbital) and spaceflight analogues (parabolic flight) and how that would impact the functionality of bio-regenerative life-support systems.  He has also worked closely with the USDA and NASA to develop the first spaceflight compatible tree fruit for space applications, including radiation and microgravity counter measures.
In addition to these activities Dr. Graham spent 10 summers in the Canadian High Arctic working on the Arthur C. Clarke Mars Greenhouse in association with the Haughton Mars Project.  More recently, he has been involved with the EDEN ISS project lead by DLR (German Space Agency) that currently has a 'bio-regenerative life-support system' deployed at the German Neumayer Station III Antarctic Research Station.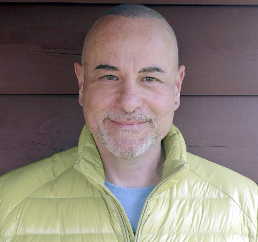 Warren Keller
Inside PixInsight: An overview of Pleiades Astrophoto's PixInsight for processing images of the deep-sky
PixInsight is an amazing advanced, extremely powerful image processing program designed for astro-imaging by astro-imagers.  It can be used for imaging and post-processing with amazing results even from mediocre data.  Warren will guide us to get the most from this software with comprehensive, understandable information and instructions so you can use the tools and techniques to create stunning, jaw-dropping images.
My Little Corner of the Universe
Warren will share many of his award-winning astrophotographs and talk a bit on his thoughts for acquiring and processing data into beautiful images.  He will talk a bit on his life in astro-imaging, his adventures in the astronomy community, and his life and times in music.
Biography:
A child of the 60s- Star Trek, 2001: a Space Odyssey, Apollo launches at dawn.  Like many of us, Warren boldly went with his heroes 'Where no man [had] gone before'.  He never really touched down again.  As vice-president of his middle school astronomy club, he owned an 8" Newtonian and began exploring the night sky.  By college however, the sky was forgotten for a career in music, most nights singing lead, and playing sax and flute in bright city venues, far from the dark skies of his youth in the Pine Barrens of southern New Jersey. 
Beginning again with film in 1998, Warren switched to CCD cameras in 2003.  He imaged remotely from New Mexico Skies 2010-2014, and is currently a member of Star Shadows Remote Observatory (PROMPT2) at CTIO, high atop Chile's Atacama Desert.  Artistic by nature, it's less about cosmology and CCDs, and more about the thrill of the hunt for the myriad of beautiful shapes and colors throughout the universe.  Warren's fine art astrophotography is displayed at www.billionsandbillions.com.
When he was a child Warren was given Fred Hoyle's book 'Astronomy' with a glossy, full-color photo of the Dumbbell nebula in the blackest velvet sky.  He knew from that moment he would someday photograph the heavens' wonders.  Warren is proud to have been published as an author and photographer in Sky & Telescope, Astronomy, Sky at Night, Astronomy Now, CNA Magazine (China), Amateur Astronomy, IDA's Nightscape, and AstroPhoto Insight magazines, and many places on the World Wide Web, most prestigiously NASA's APOD.  Three large format prints were chosen for 2012's Starstruck: The Fine Art of Astrophotography traveling exhibit, which opened at Maine's Bates College.
He was Atik CCD Camera's North American representative, and was a consultant to Celestron where he co-designed AstroFX software.  In 2016, he wrote the definitive book on PixInsight for Springer, Inside PixInsight.  The book was Springer's top seller in 2016, and was named a Hot Product by Sky & Telescope for 2018.  His tutorial business IP4AP.com was also named a Sky & Telescope Hot Product, and he has given thousands of clients the world over, a quick start to taking their own great images.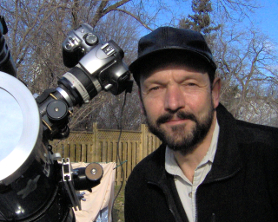 Paul Klauninger
Catching Ice – A guide to imaging comets
Comets have both fascinated and frightened humankind since the beginning of recorded history.  Seen as harbingers foreshadowing significant and often dreadful events such as wars, natural disasters, and even assassinations, these icy bodies have helped to shape not only human history but Earth's evolution as well.  On one hand, some believe they may be a source of much of the precious life-giving water we enjoy on our planet.  On the other hand, they have likely been involved in some of the numerous mass extinctions of life that have occurred on Earth.  As such, these celestial double-edged swords offer as much for contemplation as they do for astro-imaging.
Imaging comets can be one of the more challenging forms of astrophotography due to their transient and highly variable nature.  And they can appear in either the daytime or nighttime sky!  While we can accurately predict the position of a comet once its orbital elements have been sufficiently determined, forecasting its brightness and physical extent is another matter, especially for comets making their first foray to the inner solar system.  This talk will examine the extreme range that comets can assume in terms of their appearance and provide a guide to the selection of appropriate imaging equipment to try and capture their portraits.  The processing of comet imagery will also be briefly examined.
Biography:
Paul Klauninger is a graduate of the University of Toronto, where he studied Astronomy, Astrophysics, and Earth Sciences.  He has been passionate about astronomy since childhood and involved in astrophotography for over 30 years.  Paul has lectured on astronomy, astro-imaging, and space travel at the Canada Museum of Science & Technology as well as teaching undergrad astronomy at Carleton University.  He is currently an astronomy instructor at Algonquin College and holds workshops on astrophotography at the School of Photographic Arts in Ottawa.  Paul is a regular guest speaker on astronomical imaging at Carleton University and has also conducted astronomy workshops and school outreach activities for the Ottawa Board of Education.
Paul is an avid photographer of landscapes and the night sky, and performs much of his astro-imaging from his home observatory under the dark skies of Lanark County in eastern Ontario.  He is most passionate about imaging both transient and extreme celestial objects such as comets, auroras, eclipses, remote galaxy clusters, and gravitational lensing phenomenon.  He imaged his first comet during the 1987 apparition of Comet Halley and traveled to Barbados to catch it at closest approach.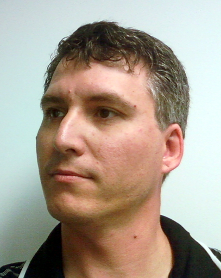 Guylain Rochon
The Incredible Avalon M-Zero and M-Uno; no meridian flip mounts
The single fork arm concept is a unique design by Luciano Dal Sasso of Italy.  Luciano is the owner of Avalon Instruments.  The primary goal of such design was 3 folds; (1) no meridian flips, (2) limited counterweight for portability, and (3) no backlash.  These premium mounts are not only capable of standing on their own against the big brand names out there, they are performing at a similar level at a fraction of the cost.
In this talk we will discuss the overall build quality and unique design of the Avalon M-Zero mount and its bigger brother the Avalon M-Uno mount.  We will demonstrate the no meridian flip concept and will delve into the unique features of these mounts and how they can change your imaging sessions for the better.  No backlash, no meridian flips, no heavy counterweight.  It's a dream mount!
Biography:
Guylain Rochon is a senior software engineer an avid amateur astrophotographer.  Guylain has always been passionate about photography since his early age; his first camera was a Pentax SRL back in 1984 at age 16.
Guylain is the author of the highly acclaimed astrophotography software BackyardEOS.  His passion for photography, astronomy, and strong background in software engineering collided one day and BackyardEOS was born; powerful yet simple to use astrophotography software purpose built for DSLR photography.  Guylain is also the owner of O'Telescope based out of Ottawa.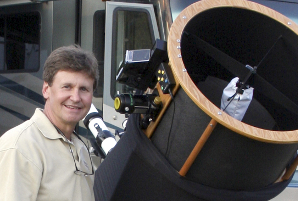 Charlie Warren
Beautiful Questions: 24 Years of Amateur Astronomy
Beautiful Questions is an informative and humorous look at the hobby of amateur astronomy with insights into the obsessive mind of the "naturalist of the night sky".  This talk also addresses the importance of amateur astronomy as it relates to our current "amusement" culture; in particular as a means of stimulating a mindset of inquiry and personal discovery in a cycle of "Beautiful Questions" that transform our understanding of the natural world that surrounds us.
Astrophotography with a DSLR
This is a practical introduction to imaging the night sky with a consumer DSLR.  This talk will address the fundamentals of settings and setup for nightscape, timelapse and long exposure imaging.  The presentation will be very hands on with a demonstration of various types of equipment, including fixed tripods, intervalometer, dew protection and light tracking mounts.  Participants are encouraged to bring their own DSLR cameras to work through various menus and settings to establish programmed presets discussed.
Biography:
Charlie Warren is the managing editor of Amateur Astronomy Magazine.  He is an active amateur who enjoys visual astronomy with a variety of instruments, particularly large aperture telescopes.  He is an avid astrophotographer who has imaged more than 400 deep sky objects and nightscapes, representing over two thousand hours of imaging time.  He also enjoys solar astronomy and spectroscopy.
Charlie's interest in astronomy was initiated when 10 years old.  While cruising in the Bahamas and Virgin islands with his family, his father taught him celestial navigation with the use of a sextant, charts and ship's chronometer.  Later while studying at Colgate University he had opportunity to observe through the nearby Cornell University observatory telescope and tag along and interview an astronomer working on refining "redshift" for galaxies in our local group.
A decade later, he invested in his first "real" telescope; a 10″ Newtonian on an equatorial mount.  His interest ignited to "obsession" following his first star party at a truly remote dark sky site.  Astronomical imaging in the late 90's furthered his obsession.  Shortly after moving back to Orlando Florida in 2003, he began frequenting the Chiefland Astronomy Village every new moon weekend.  There he befriended resident Tom Clark, the founding editor of Amateur Astronomy Magazine.  Charlie began writing articles for the publication, and in the summer of 2007 purchased the magazine when Tom Clark retired.  Amateur Astronomy Magazine just published its 99th quarterly issue, which is Charlie's 45th issue as editor.