Meals
Red Light Café

This year's Starfest "Red Light Café" will be run by Fired Up at Grilled in Action from Owen Sound, Ontario.  Please welcome Chef Crystal.
In 2017, Fired Up at Grilled in Action was awarded 1st Place as the Best Food Truck in Grey-Bruce County, by Owen Sound Sun Times Readers Choice Awards.
In 2018, the awards were revamped, and Fired Up at Grilled in Action received the Platinum (#1) award for Best Food Truck, Best Poutine, and Best Caterer, and the Gold (#2) award for Best Hot Dog.
The food truck will provide light meals and snacks, on a pay-as-you-go basis.  They will stay open well into the night.  Their hours of operation will be:
Wednesday - Noon to 2AM
Thursday - 8AM to 2AM
Friday - 8AM to 2AM
Saturday - 8AM to 2AM
Sunday - 8AM to 2PM (to be determined)
Adjacent to the truck there is a covered area with picnic tables where you can eat and chat with friends
Fired Up at Grilled in Action Menu
Breakfast
Western on a Kaiser with hash brown
10.00
Pancakes with side of bacon or Sausage
10.00
2 egg Breaky Bacon or Sausage and hash brown
10.00
Cheese Omelet with hash brown
10.00
Lunch & Dinner
Pulled Pork Poutine
12.00
Maple Bacon Poutine
12.00
Truffle Fries
12.00
Classic Poutine
10.00
Burger
7.00
All Beef Foot Long Dog
7.00
Sausage
7.00
Buffalo Chicken Sandwich
12.00
Elporko
10.00
Onion Rings
6.00
Fries
5.00
Veggie Burger
8.00
Drinks
Coffee / Tea / Hot Chocolate / Pop
2.00
Snacks
Chocolate Bars / Chips / Ice Cream
Saturday Night Banquet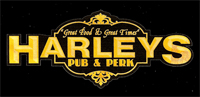 A buffet-style dinner will be served in the Main Tent on Saturday evening (5:00 – 6:30 pm) by the staff of Harleys Pub and Perk, from Mildmay Ontario. The following food items will be available:
BBQ chicken breast
BBW Ribs
Rice
Mini roasted potatoes
Mixed vegetables
Caesar salad
Garden salad
Cheesecake Bar
Coffee/ Tea / Pop / Water
The cost for dinner is $32.00 per adult and $16.00 per child under 12.  Dinners must be pre-ordered.  If you would like a dinner, please indicate this when you register for Starfest.  Specially marked name tags will be used to indicate that you have purchased a dinner and allow you entrance into the tent for the Banquet.
Cooking is allowed in the camping area on campstoves and charcoal grills.  Open fires are not permitted.
Because of the large number of people attending Starfest, picnic tables are in short supply.  We suggest you bring your own folding table and chairs.
Local Chamber of Commerce and Restaurants links