Dear Starfest Participant,
We hope that you, your family, and friends are well and are taking the necessary precautions to protect yourself from Covid-19.
The uncertainty of what conditions will be like in early August 2021 and the status of the River Place Campground (Open or Closed) has led us to postpone our 39th Starfest for another year, until August 25–28, 2022.
We did not make this decision lightly, but there is just too much at stake (people's health) to warrant holding Starfest this year.
Please mark August 25 - 28, 2022 on your calendar.  Please take care of yourself in the mean time.  We look forward to seeing you next year.
Until then we wish you all the best.
Team Starfest
The North York Astronomical Association invites you to attend its annual star party
Starfest presents
Roving Our Neighbourhood
on
Registration prices unchanged since 2016!
Starfest is recognized as one of the world's top 10
star parties!
Astronomy is an amazing hobby for those of all ages.  Beginner or more experienced, whether or not you have a telescope, Starfest is for YOU.  Make new friends and meet old friends as you enjoy the camaraderie of viewing the night sky with fellow astronomy enthusiasts.  Fun activities for the whole family!
Come see captivating views of stars, planets, comets, nebulae, and galaxies as the universe reveals its awe-inspiring treasures.
This year's theme is "Roving Our Neighbourhood" in celebration of lunar and Mars rovers and landers that have paved the way into the future of space and planetary exploration.  In our special tribute to the Apollo II Moon landing, discover interesting and little-known facts about the Apollo program that led to the historic landing of the first men on the Moon.  Over the last two decades, Mars rovers have given us unparalleled, spectacular views and detailed information about the planet's geologic past that will keep researchers busy for years to come.  Starfest celebrates these silent explorers of environments too harsh for humans and honours the scientists and technicians who dare to challenge this adventure.  Meet internationally renowned speakers who have actively participated in these successful missions as well as the next generation of planetary explorers.
See Mars up close as you have never seen before and get the latest information on meteorites from Mars.  Have you ever wondered what those meteor showers could tell us about our solar system?  See stunning astro- and solar-photography by internationally acclaimed, award winning imagers!  Learn from the pros how you can improve your own imaging.  If you are a beginner, astrophotography workshops will guide you through the steps to be more confident in your image-processing skills.  New this year is an on-site imaging advisor.
Explore the latest in astronomy gear and trends in amateur astronomy.  And for those just beginning the hobby or interested in how to choose their first telescope, a workshop will guide them to make their best selection.  Ever wanted to extend your interest and build your own telescope?  Grinding a mirror a hurdle?  See a better and easier way to make your own telescope primary mirror in a workshop by an ATM master.
You won't want to miss this exciting Starfest experience!  Come and join your fellow astronomy enthusiasts for this outstanding weekend under the stars!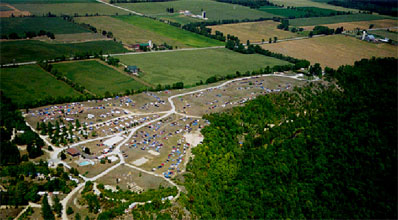 Starfest is Canada's largest annual amateur astronomy conference and star party attracting hundreds of astronomy enthusiasts from Ontario, neighbouring provinces and the USA.  It has been ranked among the top star parties in North America by Sky and Telescope magazine.
Starfest offers a variety of observing-oriented activities that address the needs and interests of experienced observers and astrophotographers, as well as those new to the hobby.  Activities include observing sessions, guided sky tour at night, presentations by outstanding leading-edge speakers, workshops, children's activities and commercial exhibits with vendors on-site to explain how their products work with hands-on displays.
Follow Starfest online at

and on

Starfest is a camping weekend away from city lights, and is not well suited for those on a day trip.