Starfest 2019 Activities
Kidsfest!
Come join the fun and learn a little about Astronomy!  At this year's Kidfest, kids of all ages will be able to immerse in activities that relate to astronomy.  These include colouring, painting, word search, bookmark making, model making, learning about the constellations, the solar system, and other celestial objects, and solar viewing.
Meet special guest Loredana Cunti!  Loredana is a writer and creator of children's and family programming, including becoming Senior Vice President of Children's Programming at Universal Pictures.
Along with Canadian Astronaut Dr. Dave Williams, she co-authored 4 acclaimed children's space exploration books:  To Burp or Not to Burp: A Guide to Your Body in Space,  Go for Lift Off: How to Train Like an Astronaut,  Mighty Mission Machines and Destination Space.  You can meet Loredana at Kidsfest on Saturday August 24th from 9:30 a.m. to 11:30 a.m.  Bring your own books for an autograph or books will be available for purchase.
Astrophotography Competition
The Starfest Astrophotography Competition is open to all registrants of Starfest.  Images are to be submitted well in advance of the Star party for judging.  All images will be judged and shown during Saturday night's program, and prizes will be awarded to the top ranking images.  Please see the Imaging Contest tab for rules and deadlines.  To contact the Chairman click .
We encourage all registrants to apply, as this is a friendly competition to recognize talent in our midst.  As long as the theme is astronomy, you can use any kind of digital equipment - cell phone, point and shoot camera, DSLR, CCD, Malincam, Stellacam, webcam, spycam, GoPro etc ...
Remember to sit near the front during the show .... your name might be called!
Onsite Imaging Consultant
Our team of experienced imagers will come to your site and help guide you with solutions for imaging.  New imagers are encouraged to sign up.
We will optimize your imaging sessions with personalized recommendations.  Please note, consultations will be done in the daytime Thursday, Friday & Saturday.
This service is offered on a first come basis.  We can only book a limited number of guests.  If interested, please sign up at the Registration Desk and indicate where you are located on the field.
Observing Sessions
Enjoy stargazing under amazing skies with your fellow astronomy enthusiasts.  Bring your telescope and binoculars and join us for our evening observing sessions.  Don't have your own telescope?  Come along and look through some of ours.  We are always happy to share.
Post Starfest Observing Extension
A number of people have expressed an interest in staying at the RiverPlace, after Starfest, for a few more nights of observing and imaging.  To accommodate these people, we have made special arrangements with the park to keep the outside lights off and the windows/doors of the washroom covered with red filters, from Sunday August 25 through Tuesday August 27, with check out Wednesday August 28 by 2:00pm.  If you wish to extend your stay for the Sunday through Tuesday nights, simply add on the extra nights you want to stay when your register.
Please note: the field power grid (the long extension cords running through the campground) will not be available at this time.  These cords are only guaranteed available from Thursday to Saturday during Starfest.  If you need power to run your equipment for post Starfest observing, please reserve a full hookup or partial hookup trailer site or bring a very long extension cord.  You can charge your batteries using one of the outside outlets by the rec hall.
If you require further information or need assistance with registration please contact .
Door Prizes
On Saturday night at 8:30 p.m. the door prize draw will be held in the Main Tent.  Thousands of dollars of astronomical merchandise, provided by the astronomical retailers and manufactures participating in Starfest, will be given away.  You must claim your prize at the time your name is drawn.  If you are not present when your name is drawn, another name will be drawn until the prize is given away.  Your name is automatically entered into the draw if you paid a registration fee as follows: One draw ticket per individual registration, two draw tickets for each family registration, and one draw ticket for each youth registration.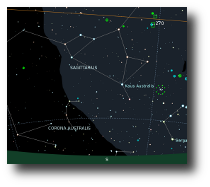 Sky Tour
Join us for a tour of the night sky on Friday at 10pm. The Sky Tour will be conducted in the field just west of the main tent.  You don't want to miss this event! (Saturday night if cloudy)
Solar Observing Session
Join us for a solar viewing session on Friday 12:00 - 1:00 p.m. next to the Baseball Field.  A variety of telescopes and filters will be used to observe the sun.
div class="activity divider">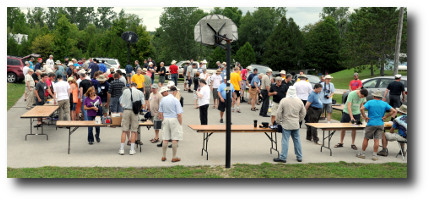 Swap Table
Participants will have the opportunity to buy, sell or trade astronomical articles on Saturday, 11:30 a.m. to 12:30 p.m.  The swap tables will be located on the basketball court.  These tables are not for commercial sales. Individuals will be responsible for their own property at the tables.